Create a Shortcut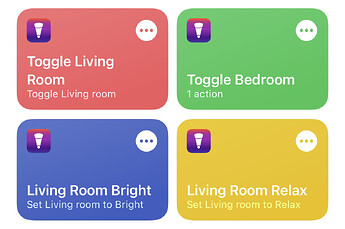 Open the Shortcuts app
On the My Shortcuts tab, tap the + button at the top
Tap Add Action
Search for Hue Essentials and add one of the actions
Now configure the action. For example you may need to select a group or a scene
You have created a shortcut. Tap the play icon at the bottom to try it out. Multiple actions can be added to a single shortcut.
Usage of Siri Shortcuts requires Premium package in Hue Essentials.
See also: Run shortcuts with Siri, the Shortcuts app, or Siri Suggestions - Apple Support
Add a Shortcut to the Home screen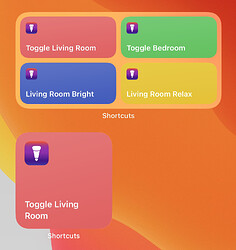 You can add shortcuts to the Home screen for quick control of your lights.
First create a shortcut which is shown above
On the Home Screen touch and hold an empty area until the apps jiggle.
Tap the Add + button at the top
Search for the Shortcuts app and add a widget
Tap the widget to configure it (if the apps do not jiggle, long press it instead)
Select the shortcut you created
Tap Done at the top
If you selected one of the larger Shortcuts widgets (for multiple shortcuts), you may need to add your shortcuts to a Shortcuts Folder first before configuring the widget.
Old Today View widgets (iOS & iPadOS 13)

Go to the Today View on your Home screen (1st page)
Scroll to the bottom
Tap the Edit button
Choose one of the Shortcuts widgets by tapping the + icon
Tap Done at the top

If a widget is missing from the list, restart your device and try again.
Run actions with automations
Open the Shortcuts app
On the Automation tab, tap the + button at the top
Tap Create Personal Automation
Select any automation you want, configure it on the next page, and tap Next at the top.
Tap Add Action
Search for Hue Essentials and add one of the actions
Now configure the action. For example you may need to select a group or a scene
Tap the play icon at the bottom to try it out. Multiple actions can be added to a single shortcut
Tap Next at the top, and then Done to save it. Your automation is now enabled