Hi,
when creating automations the reaction, so what shall be done, e.g. starting a scene at a certain time, turns to "unknown" after I save the automation when opening it the next time.
When saving, the dialogue does not close but stays open so I can only cancel the creation of the automation, nevertheless a new automation is stored but with unknown reaction.
With an unknown reaction the automation does not work either.
I have an old automation (lights off at a certain time in the evening) which has been created identically some weeks ago which still works but I cannot create a new one (lights on at a certain time in the morning).
Can anyone help me? I am using the iOS app premium v. 1.21.2.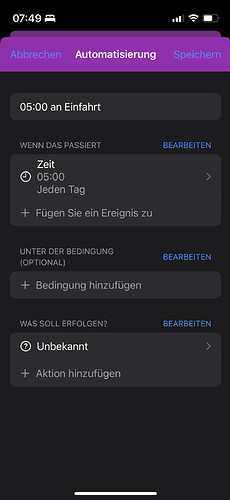 -Whohooo